SUN DIEGO STORE LOCATIONS
Sun Diego has several convenient locations located throughout San Diego County.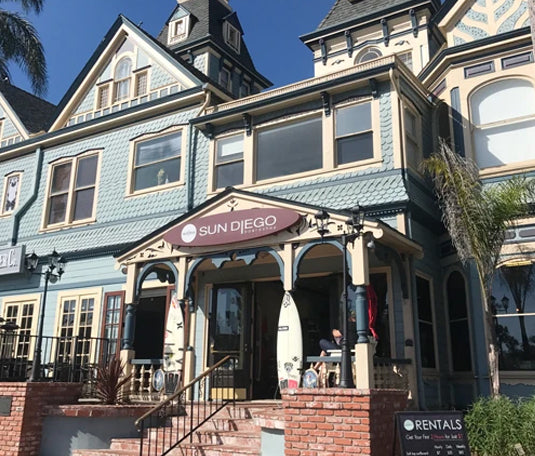 Carlsbad Twin Inns
2978 Carlsbad Blvd #120
Carlsbad, 92008
Phone: (442) 500-2295
Email: TWI@sundiego.com

Monday-Thursday: 10:00-8:00pm
Friday-Saturday: 9:00-9:00pm
Sunday: 9:00-8:00pm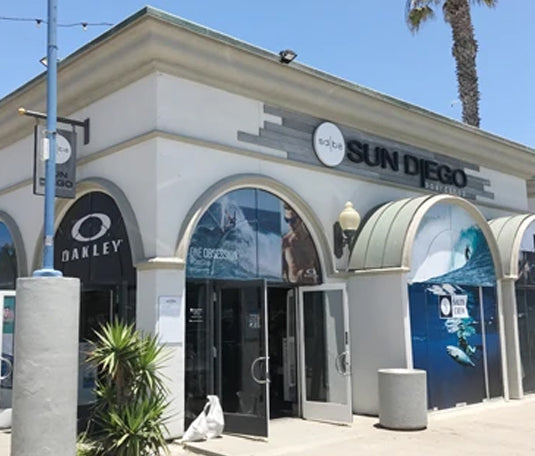 Belmont Park / Mission Beach
3126 Mission Blvd. Suite A
San Diego, 92109
Phone: (858) 866-0108
Email: BEL@sundiego.com

Monday-Thursday: 10:00am-7:00pm
Friday-Saturday: 10:00am-8:00pm
Sunday: 10:00am-7:00pm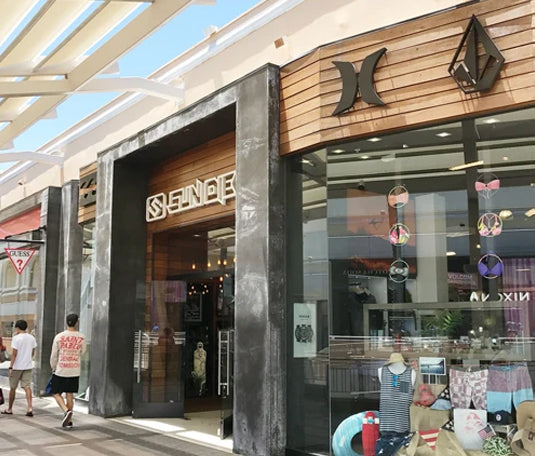 Fashion Valley
7007 Friars Rd #844
San Diego, CA 92108
Phone: (619) 268-2295
Email: FAV@sundiego.com

Monday-Saturday: 10 am - 9 pm
Sunday: 10 am - 7 pm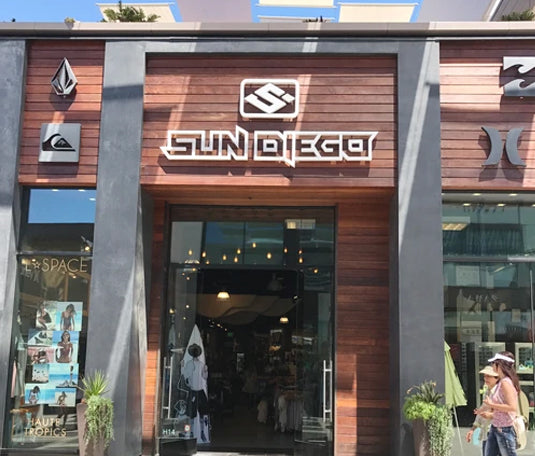 Westfield UTC
4465 La Jolla Village Drive
Suite #H-14, San Diego, 92122
Phone: (858) 646-0632
Email: UTC@sundiego.com

Monday - Saturday: 10 am - 8 pm
Sunday - Saturday: 11 am - 7 pm
San Clemente
101 W. Avenida Vista Hermosa Ste 562
San Clemente, 92673
Phone: 949-441-7844
Email: SCL@sundiego.com

Everyday: 10 am - 8 pm
ABOUT SUN DIEGO SURF STORES
Welcome to Sun Diego. We've had the pleasure of calling San Diego both "paradise" and our "home" since 1981. It has always been our goal to deliver the best selection of everything you need to make it your own personal paradise. Surfing, skateboarding and all things coastal are our passions and we have seven unique locations throughout San Diego County to serve you. Whether it's in the ocean, on the sand or over pavement, Sun Diego feels right at home. We live and breathe the Southern California lifestyle and invite you to join us for some good times and good vibes.
We're honored to have been voted "Best Surf Shop" nine times by the San Diego Union Tribune Readers Poll. We have also held the title of "Retailer of the Year" and "Women's Retailer of the Year", which is nominated and voted on by SIMA (Surf Industry Manufacturers Association) and other industry retailers throughout the country.
Featuring the best assortment of products from brands that range from staple to niche, and even those that are new to the scene, Sun Diego offers something for everyone committed to the sun and coastal living and playing. From the iconic beaches of Carlsbad to Opening Day in Del Mar, Belmont Park in Mission Beach to the beaches of La Jolla and the pavements of North County, East County and South County, we have what you need. We are proud that our push to keep San Diegans dialed on the latest trends is making waves. See you in the water…on the beach…or just hanging out at your favorite brewery and remember…You're ALWAYS welcome to drop in on us…
"Sun Diego is a local surf and skateboard shop that is basically as close as you can get to the beach without being on the sand."